Hello lovelies!
I was perusing some of my usual suspects and I came across
The Chronicles of Ruthie Hart
's post about a day in her life as a link up with
Mrs. T, Naturally
's Blog Outside the Box series. I was responding to her post, saying how I can't imagine how the poop I'd actually get my "typical" day down when I thought- ok, now I really want to try!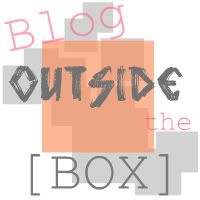 You should know, none of my days are "typical." Our schedules are crazy, but I am REALLY going to try to give you as good an idea of my day as possible!
Here goes nothin'...
Somewhere between 6:30-7am- Bentley pup wakes up! No real barking just a lot of moving and jingling his doggie tag and maybe a couple whines to let us know he's up and ready to go outside.
7 am- Puppy gets breakfast while I get another half hour or so of sleep!
7:30 am- Actual wake-up time... give or take a few snoozes of the alarm. I stand by the fact that setting my alarm slightly earlier to allow for snoozing makes me appreciate that little bit of extra sleep. I can't possibly be alone on this.
7:45 am- Some sort of trade off involving taking the Bent Bug out for his post-breakfast potty trip or getting the coffee pot started. This is also about the time where the kitty cats start following me around letting me know it's time to fill their bowls too... Im not joking when I refer to "our zoo." It's chaos and I love it!
8 am- Get Disney show ready! On a day off, I will almost never wear make-up... If I do, it consists of a little Bare Minerals, mascara, and lip gloss. Show make-up for work at Disney is a little more than that so it takes me more time than a day out and about.
8:30- Head to work! The person's schedule has him out the door anywhere between 7:30am and 12:45 pm... so for the purposes of this "day in the life"... we're going to partially ignore him... lol Love you!
9 am- Backstage, always a little earlier than I need to be but I always feel late if I get there RIGHT when I'm supposed to be there... is that strange? Anyway, at this point, I start getting into costume, mic-ed up, and ready for the 9:40 show!
9:40, 10:30, 11:20, and 12:10- The first 4 shows! Pretty much just go out on stage and be awesome... lol Yeah not quite. But there's a whole lot of talking to kids, turning giant book pages, almost slipping on bubble juice, and tripping up and down stairs involved. I like to take snacks to munch on between my shows because I get SO hungry. You can hear me announcing as we go to each show "I get my granola bar after this one!" or "It's almost time for my banana!" I'm a real gem and I never annoy anyone backstage... ever.
12:30-1:30- "Fake lunch!" It's only fake because it's a break in show times but not the actual allotted lunch time for the puppeteers that actually work 8+ hours... Oh, had I not mentioned my Disney work day is no where near 8 hours long? Whoops... I still work my booty off though! Normally lunch consists of a turkey and cheese sandwich or a weight loss shake.
1:30- My last show of the day, normally. Unless I'm working the pm shift which is only occasionally and means my first show isn't until 2:20.
2:15- Head out from work and fairly often (more often than any regular person should) run by Target or Publix for some random item- laundry detergent, kitty litter, or resse's peanut butter cups. The essentials, clearly!
By 2:45ish- Home to take the pup out! Then play/relaxation time... Is that strange that I get this sort of time in the middle of the day? Yeah, I know it is. I realize a lot of people think I have it so easy but performing takes a lot out of me! I work hard doing what I do- and the day isn't over yet!
3-5pm- 2 hours of training the pup, loving on the cats, blog love, and a whole lot of this...
Plus dinner... Which could mean pasta with a little light "I can't believe it's not butter", garlic salt, and parmesan cheese with some grilled chicken, or just a bowl of cereal. If it's a night the person comes home by 9- I cook for real! Lots of yummy stuff! I swear I do. But if it's just me- dinner is never too creative!
5pm- On a busy day, this is puppy dinner time! This gives me time to feed him and get him taken out with extra time for playing and getting some of his puppy energy out.
By 5:40- Get Capone's show ready and head out the door! This is much heavier make-up than my other job. Like, the big fake eyelashes kind. Plus, since I have to wear a wig, I get my hair wrapped up into pin curls... I have a whole lot of really thick hair so that takes a little time.
Up to 10pm or just after that- Make a whole lot of slightly or not so slightly intoxicated tourists laugh. In theory.
That would be me... as Bunny June. lol Ohhhh my.
Then I get home somewhere around or just after 10:30. At this point usually I'm starving, because I'm always starving after show, and so I take out the pup and then let him run around while I indulge in cheese and crackers or veggie chips and light ranch. Yummy.
I then proceed to pass out, puppy and kitty in tow, on the couch...
At some point, hopefully before 12:30 but not always, the pup gets taken out one more time before he cuddles up in his crate for the night and I hit the sack!
Lather, rinse, repeat.
Definitely not your average persons daily routine but it's more or less how "work" days go around here. Insert the person in any number of those parts as we are pros at doing nothing on the couch any chance we get!
There is it is! A typical, not so typical day in my life!
Head over to Mrs. T's page and link-up too. :) I think it's so interesting to sort of get a feel for what the bloggers I follow are doing in their real life- when they aren't sitting in front of a computer screen. Let me know if you do it so I can head to your blogs and check out what you've been up to!
Happy Tuesday everybody!