I've been saving this post ever since I saw the "October Followers Fest" on
Much Love, Illy
. It's a fabulous fall themed blog hop of sorts that links up through some of my favorite blogs and you should go join in on the fun!! It's going on all weekend so you have plenty of time to put together a post and play along...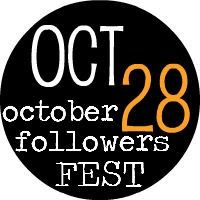 For this special occasion- I've saved my special post of my very first pumpkin carving!!!
You see what I did there?
I just managed to get a bunch of people who have never been by my blog before (and probably all my followers) asking "what kind of girl is this?! Never carved a pumpkin?! Blasphemous!!"
Or some variation of that sentiment...
I know!! I somehow missed out on this tradition and most other "gets you messy" activities... Whoops!
For the record- I do not feel deprived in any way at all. In fact, carving my first pumpkin at 24 was a blast!! I had so much fun learning how to do it all from my person and got some cute pictures to remember this momentous occasion. And so, lucky for you all, here's an awesome little photo drop!!
So the scooping out part took me FOREVER!!! I honestly think he was done with the whole thing before I finished this part...
I couldn't find a pattern I liked... Sooooo I made my own in an old notebook, scanned it in, and blew it up to use instead... Should've gone with the old school jack-o-lantern for my first attempt!
The person likes to use the brilliant "thumbnail to make the outline" technique. SO smart but thanks to my awesome design, I could not feel my fingers by the end!
Am I seriously still poking holes?!
Finally starting to cut!! Those tiny saws are far too fragile. I may or may not have broken one... whoops!
Then the person had to swoop in and save me!! My intricate design was a little ambitious. The pup lost an ear and there were almost many more casualties. But- he got me through the tough parts so I could get it done. What a guy :)
The finished product! It's a window scene featuring all my fur babies!! And a spooooooooky old tree
The artist with her work of art. I am seriously proud of that thing!
Both our masterpieces up on display and his favorite Halloween decoration. I like to think they look good together.
There you have it!! Not so bad, huh? Did you get around to pumpkin carving yet this year? Do you go with templates or make your own?
If it's your first time here, welcome! I hope you'll keep looking around some more and stay a while. There's lots of goodness here in my corner of the blogosphere and I can't wait to hop around and find some new fun-ness on all of your blogs too!!
Hope this post finds you all well!! Lots of love and energy all around...